Hi folk,
The new 1.12 Harmony has been up for around a month now, newcomers are joining everyday, but what about oldcomers? They might have a base in Legacy of which they want also in Harmony, this is where
Schematica
comes in to save the day. I'm fairly sure about 75% of folk reading this already have/use Schematica, but there's still that 25% who don't know how to use it, in which are probably obviously going to need this guide.
How to install:
MC Launcher
This is for the normal MC launcher, if you're using Technic, scroll down until you see the Technic guide.
Firstly, you'll need to install install the mod itself, click
here.
You'll also need LunatriusCore for the mod to run, otherwise you'll most likely crash when attempting to run it with Schematica only. Click
here.
Great! You've installed all mods required to run Schematica.
I'm aware most of you know how to access your .minecraft folder to drag the mods into it. But this is just in case you forgot/don't know.
Open Run,
(Win+R)
, and type in
%appdata%
Click on
OK
and do the following: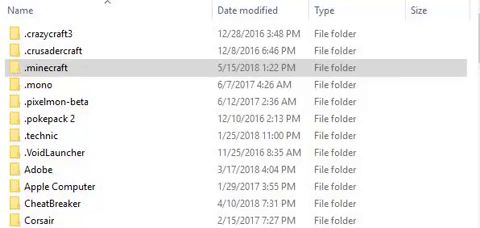 Find where the mod files are then drag it into .mods. (I already have the mod installed and dragged in)
And that's all for windows!
Technic Launcher
The download steps are exactly the same, but this time you need to open the .technic file.
How to use:
Now, the fun part, actually using the mod!
Copying and Pasting a Schematic
Let's start of with the main part of using Schematica; pasting a schematic. If you want to download a Schematic of a house, for instance, you'll need to download it or get it from somewhere, I personally suggest using
http://www.minecraft-schematics.com/
for downloading them.
After you have the Schematic, you'll need to drag it to your .schematics folder. Here's a shortcut on how to do so:
Press divide to load the Schematic menu:
Click on
Open schematic folder.
Then drag the .schematic file into it, pressing divide again will show what you dragged.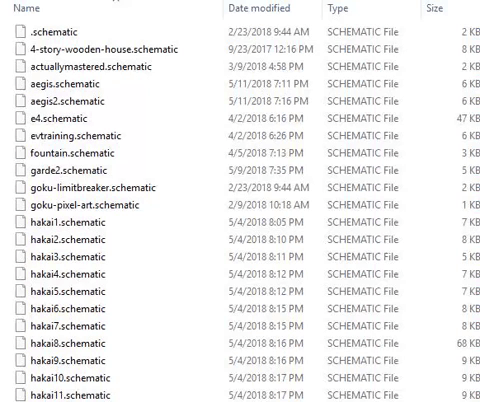 Click on the Schematic file then on done.
There! I just pasted a schematic of my statue that Quatrina built me.
Now when you sometimes load a Schematic, it might be in an odd/unsuitable area, press
minus
to open up the Schematic's menu. Then proceed to changing its co-ordinates:
And that's that! You've loaded the Schematic.
You haven't exactly copied and pasted the Schematic with blocks, you'll need to trace over it with the resources required. open up the Schematic menu and click on
Materials
For lazier folk, there's a
Printer
feature where all you need to do is gather the resources and start moving your mouse around the Schematic, it'll start auto-building it! You can also adjust the printer's speed via the config.
Open the menu and toggle it on/off:
That's pretty much it for building/loading the Schematic.
Manipulating the Schematic
Now, what if you have a build of which you want to duplicate, move elsewhere, or etc? Schematica is a VERY good use for that, this why Schematica has been used by many players who have moved from Legacy to 1.12.
Let's manipulate the Park Ranger statue this time;
Press
Multiply (*)
to open up the manipulating menu.
Click on
Red Point
while standing on where you want to make the Schematic's corner.
Do the contrary on where the second corner should be (will have to be up in the sky if it's a build higher than one block,) then click on
Blue Point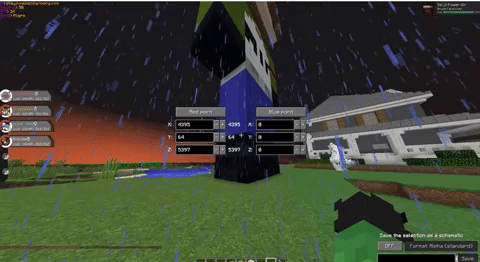 Now you'll need to save the Schematic, give it a name, save it, and call it a day.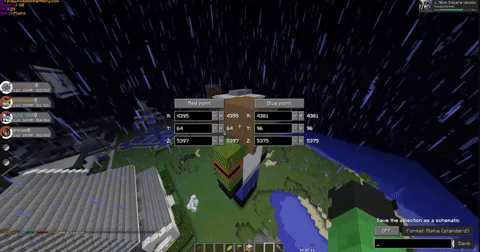 (The Schematic will automatically go to your .schematic folder, so need to go to the hassle of finding the file and dragging it into .schematics.)
And that's all for the guide, folks! You're now fully aware on how to download and use Schematica. I hope you've at least learned a thing or two reading this guide. And if you spot any errors/need a little help still, you're more than welcome to post below.